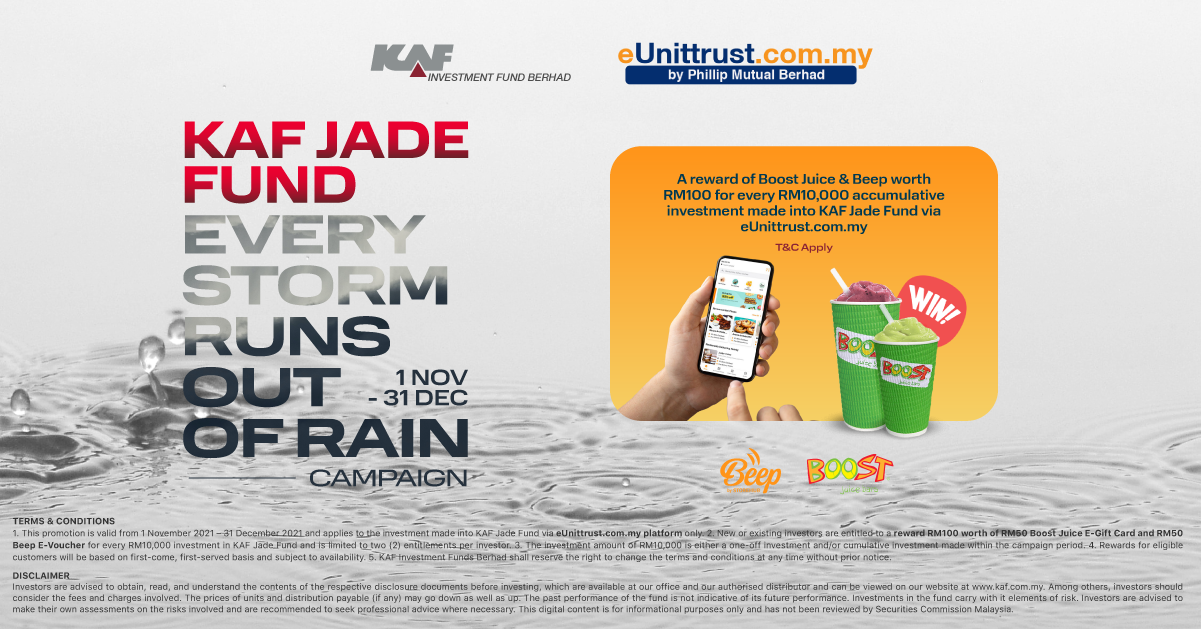 Terms & Conditions
1) This promotion is only valid from 1st November 2021 – 31st December 2021 (cut-off time 3pm).
2. New/existing investors are entitled to a reward RM100 worth of RM50 Boost Juice E-Gift card and RM50 Beep E-Voucher for every RM10,000 investment in KAF Jade Fund and is limited to two(2) entitlements per investor.
3. The investment amount of RM10,000 is either a one-off investment and/or cumulative investment made within the campaign period.
4. Rewards for eligible customers will be based on first-come, first – served basis and subject to availability.
5. Voucher is fully sponsored by KAF Investment Funds Berhad.
6. This promotion is only applicable to eUnittrust.com.my account holders. Participants who don't have an account with eUnittrust.com.my will need to open an account first to be eligible for the promotion.
7. This promotion is only valid for transactions done online via website www.eunittrust.com.my.
8. This promotion does not apply to Transfer and Regular Saving Plan (RSP).
9. eUnittrust.com.my account holders that purchase selected promotional fund is not entitled to qualify to any other referral program incentives or contest.
10) 0% Sales charge rates for unit trusts may vary based on rates provided by FMIs to eUnittrust.com.my, as distributors on i-Invest platform.
10. eUnittrust.com.my shall reserve the right to change the terms and conditions at any time without prior notice.
11. Eligible investors will receive vouchers 14 days after campaign period ends on 31st December 2021 and will be notified through email.